There has been a lot of buzz surrounding Dana Wilkey's $25,000 sunglasses from this week's episode of RHOBH. To those who are hating – You do realize that the whole reason you watch Real Housewives of Beverly Hills is to see people who own $25,000 sunglasses, correct? Think about it. I, on the other hand, would like to thank Dana because until this past Sunday, my husband thought my Tom Fords were wayyyy too expensive…
Dana Wilkey's $25,000 Sunglasses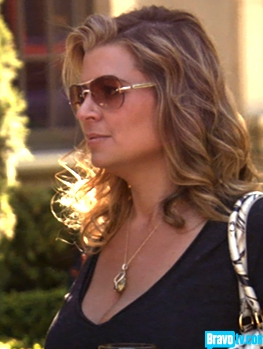 Lux Due Style 45 by Franco www.luxuriatorcollection.com
*Multiple varaiations available*
Thank you @DanaWilkey for the Style Assist!
Style Stealers:
(Because I have a feeling you'll need them this time)
Rhinestone Top Aviator Sunglasses $9.95 eBay.com
Michael Kors Rhinestone Aviator Sunglasses $295 NeimanMarcus.com
Most Likely To Likely to Be Seen On Kanye Style Stealer:
Danger Zone Silver Aviators $200 Etsy.com
Have you seen something on a Housewife you can't live without? Post a comment below, tweet @BigBlondeHair or leave a comment on The Big Blonde Hair Blog's Facebook page.