Friday Fashion Face Off: Outfit of the Week
Friday Fashion Face Off: Outfit of the Week
Okay so we may have missed the last "Friday Fashion Face Off: Outfit of the Week", but Sally Steele and I are busy ladies and it's summer, so we feel we deserve a pass. And really, who cares about that because we are back in full force and we have picked our favorite look of the week to bring you in today's FFF.
Sally Says:
My look of the week is an easy one (and no, it's not just because I've barely written anything). This can be a repeat offender because it's not really an outfit, but Hoda Kotb's amazing druzy drop earrings! When Lauren pointed out these earrings to me, I went on a deep dive at HauteHeadquarters.com and have like 25 things in my shopping basket now. I'm not really a costume jewelry person but the latest fringe and frills and bells and balls that we see everywhere is actually really fun and whimsical, and so I'm enjoying it a lot. The best part of this trend is that it's a splash of color for reasonable prices. Hoda's earrings were more sophisticated and can definitely be worn for both fun and fancy purposes. And lucky you- to get her look you can enter "sally10" for 10% off your order! WIN!
Keep it Real,
Sally Steele
Click Here to Shop Hoda's Marcia Moran Druzy Drop Earrings
Lauren Says:
Although I'm in love with Chelsea Meissner's tropical graphic printed maxi dress from Key West I have yet to find it, so Cameran Eubanks' metallic printed dress / caftan wins by default as it was my second favorite outfit of the week. While the pretty piece probably wouldn't have turned my head on the model, Cameran made this piece look fabulous by sizing down and making it into more of a fitted dress. It's the perfect look for a fancy summer dinner and you'll be able to take it on vacation from here on out to wear to any nice dinners or night outs you have (this is what I refer to as my "Miami" wardrobe and includes pieces like Kyle Richards' Camilla dress).
Her large, gold statement earrings were a perfect match for the birthday girl that made the look extra bold. And while Cameran paired it with a nude shoe I would totally go all out and make pair it with a metallic heel or embellished sandal to take the look over the top! The best part is, whether you want to steal her style in blue, white (also super gorge) or floral, this cute caftan is yours for the taking just in time for summer.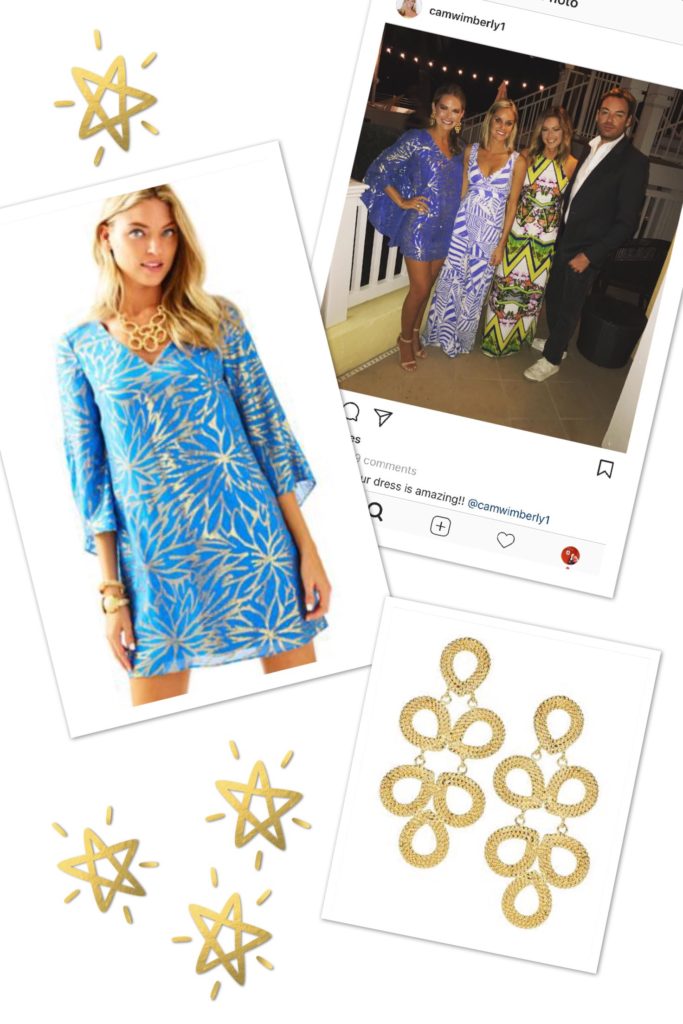 Click Here to Shop Cameran Eubanks' Miri Silk Caftan in Blue and Gold
Click Here to Shop the Miri Silk Caftan in White and Gold
Click Here to Shop the Miri Silk Caftan in Floral
Click Here to Shop Cameran Eubanks' Lisi Lerch Ginger Gold Earrings
Have you seen fashion on the Real Housewives or any other Reality TV style you can't live without? Post a comment below, follow @RealityStarStyle on Instagram, tweet @BigBlondeHair or leave a comment on  Big Blonde Hair's Facebook page